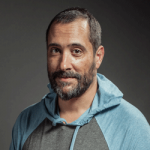 Vincitore alla Society of Illustrators of New York (1997), famoso è il suo murale in piazza Heritage (Flagstaff, Arizona) realizzato in 9 mesi.
Le sue illustrazioni sono pubblicate su riviste (Rolling Stone, Print, The Los Angeles Time, Juxtapoz, Step-by-Step, Art Now, Communication Arts) e usate da Warner Bros e Atlantic Records.
Dal 1995 espone in personali a Los Angeles, New York, San Francisco e Detroit. Inoltre, è batterista degli Sparkleface.