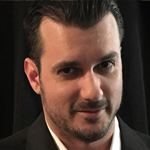 Jason Engle è un artista con un'esperienza di 20 anni nel mercato dell'intrattenimento e dell'editoria. La sua carriera ha spaziato in molti campi del Fantasy e dell'arte, inclusi giochi di carte, miniature, fumetti, concept art, belle arti e anche copertine per libri, giochi, riviste, album e t-shirt.
Ha lavorato per prodotti come "Magic: The Gathering", "Game of Thrones", "World of Warcraft", "Star Wars", "League of Legends", "Everquest", "Dungeons & Dragons", "Pathfinder", "Vampire", "Numenera", "Invisible Sun", "Legend of the Five Rings".
Recentemente ha lanciato il suo brand di fama mondiale, "Mausolea", una collezione di opere dark fantasy ispirate a varie mitologie, poi adattate in giochi di carte, stampe e merchandise.